Coming all the way from Europe, the alabaster garden rose sports a cream colored, ruffled bloom and fresh fragrance that has been described by many as "a pleasant dream." Needless to say, the decision to make it the newest addition to our Now Blooming collection was an easy one!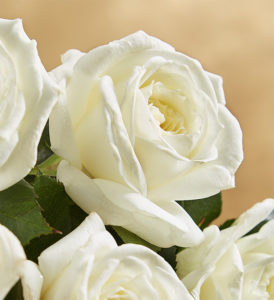 The Difference Between English Garden and Hybrid Tea Roses
You probably know that roses come in a variety of colors, but did you know that they also come in hundreds of species and far more cultivars? Your traditional Valentine's Day roses and the ones we see in movies are most often of the hybrid tea variety. Known for their signature pointed buds, hybrid tea roses open slowly and typically bloom several times throughout their growing season.
With many saying they resemble a cross between a carnation and a rose, English garden roses are a delightful twist on the classic roses we've grown to love. Typically, it has a small cluster of wavy petals at its center with larger, more rounded petals on its outer ring. Continue Reading…